Ed Cray as "Nathan"

Ed Cray, a Chicago native, has worked hard to realize his passion as a film actor. He worked his way up in the business, as an extra on feature films, studying film acting, and playing character roles. His strong screen presence has landed him parts in such films as U.S. Marshals, Novocaine, Soul-Survivors and up-coming films, Dead Letters, Mr. ID, and SLAVE that was recently screened at the 2003 Cannes Festival in France. He can be seen in the film Lana's Rain, directed by Michael Ojeda which recently screened at the 2002 Chicago International Film Festival. His persistance and hard work has payed off, being hand picked by such directors as Michael Mann, Steve Carpenter, Stuart Baird, Gary Nelson and most recently, Laszlo Hege. Ed is currently in preparation for his role in Hege's film The Filthy War, a Mozgofilms production to begin shooting in Eastern Europe in 2005. Ed can be reached at ecray60629@yahoo.com.

---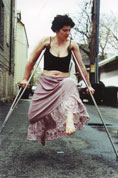 Kate Sheehy as "Celia"

Kate Sheehy likes to hunt for alley treasures. She has been making stuff for the stage and screen over the past four years. Collaborating with other local artists, she has created object theater for events such as "The Undershorts Film Festival, The Chicago Puppetry Festival, Puppetropolis and The Junkshow, which she curated. She and her friends have made a few three minute movies for the 5x8 Video Festival (now called Fast Forward). A fan of the short, she has concocted characters for cabaret. Perhaps you have found The Froglady stomping around in suction shoes at "Shoes of Iron, Shoes of Glass"; maybe you witnessed the Worm at The Bottom of the Bottle transmutate into Snakelady at the "Carnival of the Dead"; Possibly you've taken your chances wrestling Ochenga, The Wrestling Gorilla at the "DeCorps Burlesque" and "Gurlesque Burlesque"? Keep eyes peeled for other such creatures.

Kate also works with kids of all ages, making puppets, telling stories and performing. She has worked in Chicago Public Schools and other community centers with organizations such as Redmoon Theater, Gallery 37, The Illinois Arts Council, Chicago Park District and LaRabida Children's Hospital.

In her spare time, Kate Sheehy likes to ride her
unicycle and collect rubber bands on the sidewalk.


---


Patrick Belton as "Brian"

Patrick Belton, grew up in Portland, Oregon and at 18 relocated to Chicago to study acting at The Theater School of DePaul University. In Chicago, Patrick worked at Victory Gardens Theater, Stage Left Theater and the Merle Reskin Theater, and landed a role opposite Lea Thompson in the NBC miniseries, A Will of Their Own. Soon after, he appeared in the CBS pilot, Turks. After his role as Brian in the short film Lonewolf, Patrick moved to Los Angeles and started working in independent film. His film credits include Under the Bus, Shooting Stars, Menace, Inspirations and Future. He has also appeared on the WB's Buffy the Vampire Slayer, NBC's One World, E!'s The Vic Morrow Story and NBC's Watching Ellie. Patrick is proud to make his feature debut with Pomegranate Films in Solitude. www.solitudethemovie.com